Reflection:
There are many different ways teachers can create rules for the classroom however it is important to understand the difference between situations that call for a rule and when it calls for a procedure/routine. According to researchers at Smart Classroom Management rules should be simple,easily defined, and enforceable (
Linsin, M. ,2016)

. There are many different types of children within one classroom some of the children may be at different academic levels, maturity levels, and socioeconomic backgrounds. The rules have to simple enough that everyone no matter what can understand them. The best way to make sure that they are simple is to make sure that the rules are easily understood. Of course the simplicity will mean nothing if the rules are not something that a teacher can enforce within the classroom. If a teacher is not able to give the proper reward or punishment for the rules they establish then they are meaningless.
Research
Tools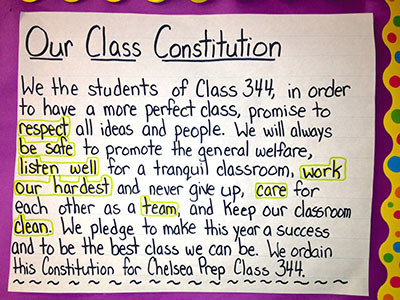 https://www.scholastic.com/teachers/blog-posts/alycia-zimmerman/we-people---constitutional-approach-classroom-rules/
References
Frazier, W. M., & Sterling, D. R. (2005). What Should My Science Classroom Rules Be and How Can I Get My Students to Follow Them?. The Clearing House: A Journal of Educational Strategies, Issues and Ideas, 79(1), 31-35.
Linsin, M. (2016, November 11). How to Create The Perfect Set Of Classroom Rules. Retrieved March 17, 2017, from https://www.smartclassroommanagement.com/2015/07/18/how-to-create-the-perfect-set-of-classroom-rules/